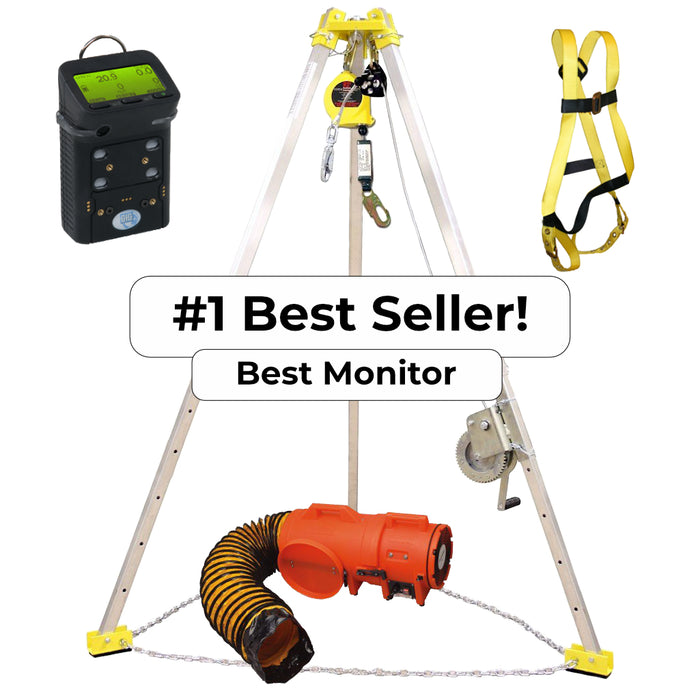 All-In-One Complete Tripod Rescue Confined Space Rescue Kit
Sale
Sale
Original price
$3,349.50
-
Original price
$3,349.50
This is now our best selling all-in-one confined space contractor kit with a rescue tripod system. The reason is due to the ultra durable G450 gas monitor. The G450 even comes standard with a 3 year warranty.

This confined space rescue kit is now the go to choice for most confined space entry jobs. It has everything you need to safely enter your confined space, monitor the atmosphere, ventilate the space, and rescue if necessary.
Like all the kits we sell, It offers the durability of all top name manufacturers. The tripod system is even made in the USA. The G450 monitor comes with alkaline batteries - this super convenient for most contractors (a rechargeable version is available if needed). All the equipment meets applicable ANSI and OSHA standards for confined space entry.
The included detector is a workhorse for any contractor. It is loaded with features, but is simple to use: just turn on and turn off. It also runs on alkaline batteries (just two AA's) so you don't have to remember to charge it. Battery life is up to 12 hours. And the way to get a remote sample of the space is to simply lower the monitor down on a rope. No need to mess with pumps and filters--which are often less reliable.
The CSK-F-G4-A includes everything you see below:
This kit also includes:

Certified NIST Calibration - our lab calibrates the gas detector before shipment and provides a brand new calibration sticker and calibration certificate.
Note: most instruments shipped by distributors were last calibrated by the manufacturer weeks prior to your getting the detector.
$85 Value - Free