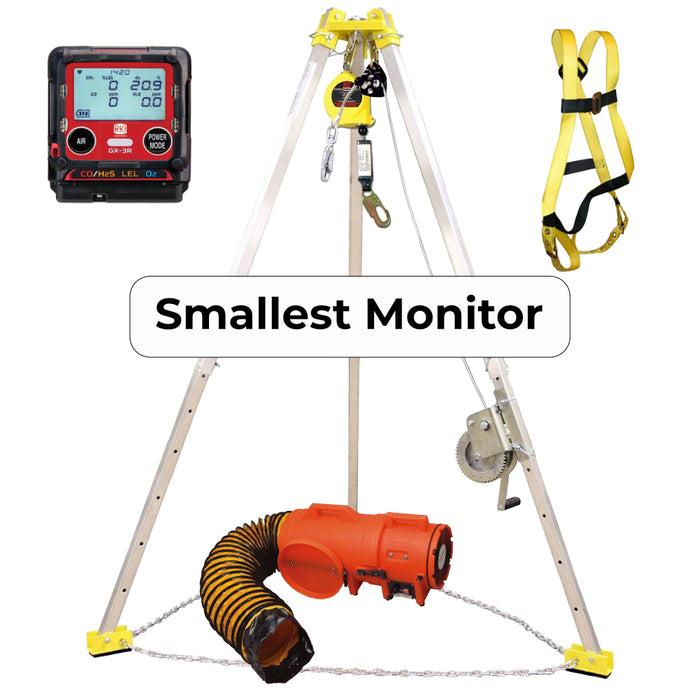 Major Safety CSK-F-3R-A Compliance Confined Space Contractor Kit
Sold out
Original price
$3,096.50
-
Original price
$3,096.50
This is our second best selling all-in-one complete confined space rescue kit. The only difference between this and our best-selling kit is the gas monitor. This kit now features the RKI GX-3R personal confined space monitor. This monitor also comes with a 3 year warranty.
This kit has everything you need to safely enter your confined space, monitor the atmosphere, ventilate the space, and rescue if necessary. Plus, it comes with our expertise and experience. We are just a call away.
It offers the durability of all top name manufacturers. The tripod system is made in the USA. The gas detector features the latest in Japanese micro-sensor technology. It comes with a charger and battery pack which provides over 20 hours of use per charge. It meets all applicable ANSI and OSHA standards for confined space entry.
This meter does not come with a pump. To get a remote sample of the space, simply lower the monitor down on a rope. No need to mess with pumps and filters.
The CSK-F-3R-A includes everything you see below:
This kit also includes:

Certified NIST Calibration - our lab calibrates the gas detector before shipment and provides a brand new calibration sticker and calibration certificate.
Note: most instruments shipped by distributors were last calibrated by the manufacturer weeks prior to your getting the detector.
$85 Value - Free