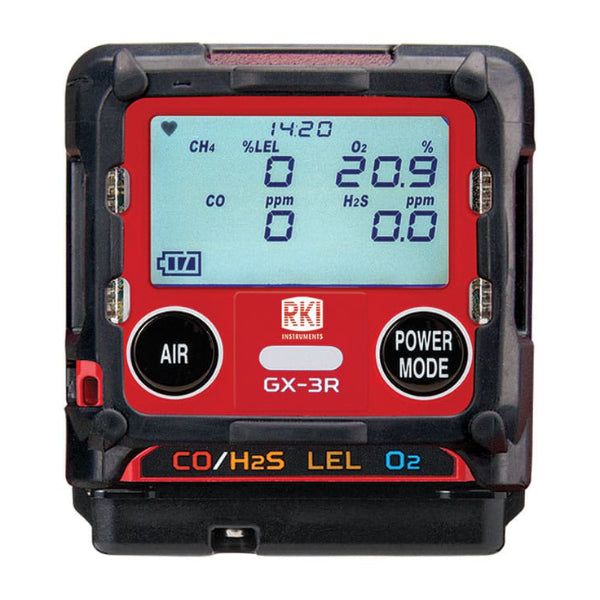 RKI GX-3R Confined Space Gas Detector
Sold out
Original price
$625.00
-
Original price
$625.00
The RKI GX-3R is the worlds smallest 4 gas monitor weighing only 3.52 ounces and can comfortably be clipped within a worker's breathing zone. This confined space persons gas meter detects LEL combustibles, Oxygen, Carbon Monoxide, and Hydrogen Sulfide.
The GX-3R uses the latest in Japanese micro sensor technology. The LEL sensor has a unique design with two active filaments in one sensor to increase it's resistance to silicone poisoning. If one filament gets poisoned the second filament takes over. The new O2 sensor is electrochemical with a 3 to 5 year life span.  H2S and CO are now available in a combo micro sensor. Because of this technology, this monitor has a 3 year warranty.
And of course, Purchase Price Includes Certified Calibration from our Lab - $85 value!
It's a diffusion meter, so like the G450 and the Microclip XL, remote sampling would be done by lowering the GX-3R down via a rope - not at all unusual. 
Features:
Smallest & lightest 4 gas monitor
2.2″ W x 2.55″ H x 1.02″ D, 3.52 ounces
Simultaneous detection of 4 gases
LEL, O2, H2S & CO
H2 Compensated CO sensor available
Simple 2-button operation
Non-Compliance Indicator
Alarms: audible, visual, & vibration
3 user adjustable alarm levels
25 hours of operation (Lithium-ion battery)
Water and dust resistant design, IP66/68
3 Year Warranty