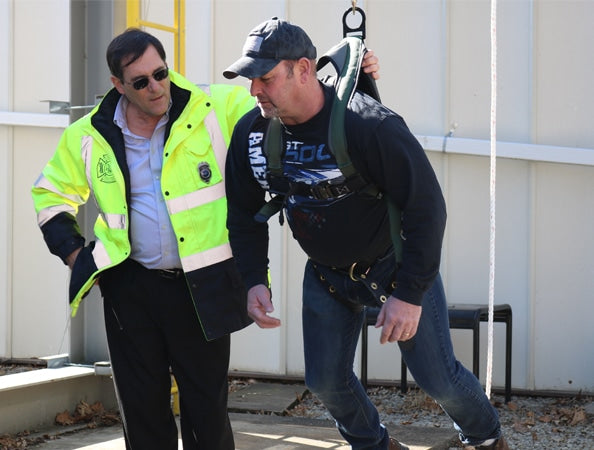 Fall Protection Rescue Plan
The need for a fall protection rescue plan is an often overlooked aspect of fall protection safety. When working from height, or even in a confined space, a rescue plan is required by OSHA. Falls happen and winches can fail. What is your rescue plan if this happens?
Is Your Rescue Plan to Call 911?
The problem with this plan is time. Suspension Trauma can cause severe injury or death in as little as 10 minutes. Will the rescue squad arrive at your location soon enough?
The limitations of relying on the rescue squad is a reason why OSHA has set forth rescue requirements in 1926.502(d)(20). OSHA states, "The employer shall provide for prompt rescue of employees in the event of a fall or shall assure that employees are able to rescue themselves."
The Basics of Fall Protection Rescue
Every scenario is different. It's not always the case that a rescue plan will be difficult. It might be that the fallen worker can take advantage of a self-rescue ladder that was provided before the job started. Perhaps, a scissor lift can be used to reach the worker at height. With respect to confined space, in the event of a winch failure, perhaps a backup 3-way SRL rescue winch can be engaged, if one was purchased. We also have available FrenchCreek's new System 99 rope rescue system.
FrenchCreek suggests the following considerations be made when developing a fall protection rescue plan:
Jobsite Details & Location
Emergency Contacts – who can perform the rescue, and who is the site supervisor?
Method of Contacting: radio channel, phone number, PA system
Rescue Equipment Onsite: Aerial lift, ladder, rescue SRLs, Scaffolding, etc.
Locations of Rescue Equipment: where on the site is it? toolbox, truck, etc.
Other rescue factors: landing area, obstructions, and hazards to rescue.
A Sample Plan
In an effort to help in your efforts to establish a fall protection rescue plan, we provide here a guide made available by FrenchCreek. Just click the below image to download the guide. Please do not hesitate to reach out to us for assistance.