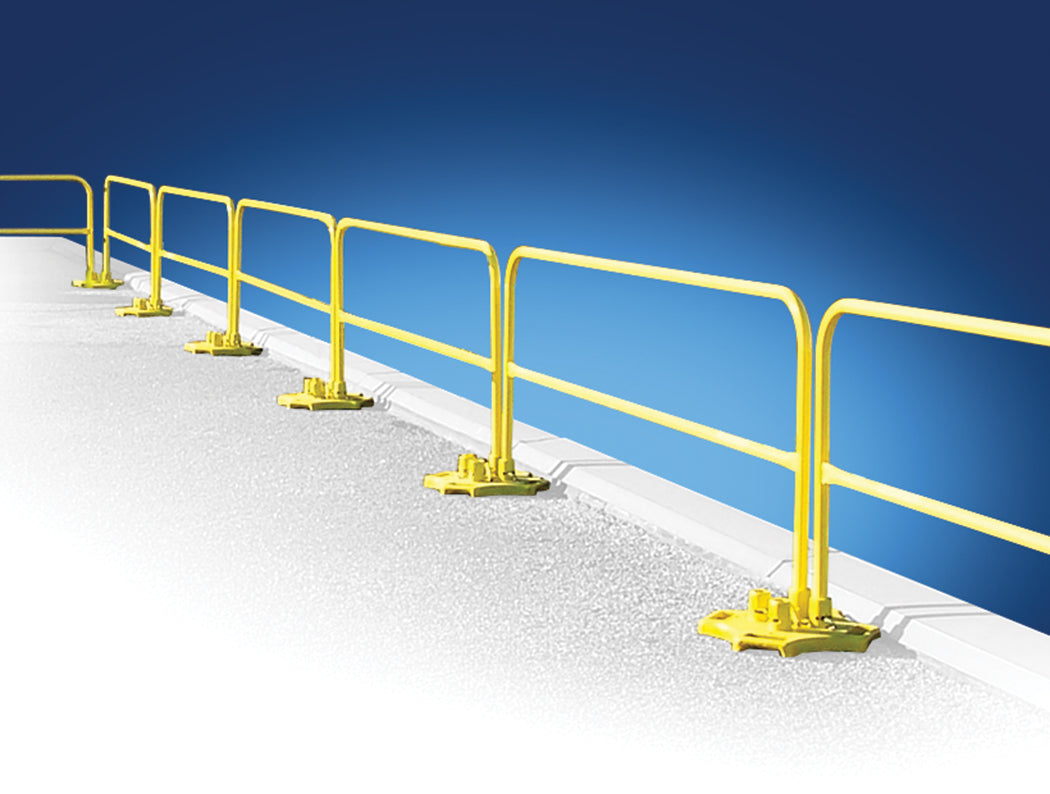 Roof Fall Protection Guard Rail Solution
The Safety Rail 2000 Guard Rails provide an easy and secure way to keep roof workers safe from falls. Our roof fall protection systems are simple to set up and provide a secure working environment for anyone working at heights. When installed properly, they also meet all applicable OSHA requirements.
Here's how to get started.
Installing Guard Rails for your roof fall protection needs is a straightforward process. First, figure out the layout of the Guard Rail safety system. Then, figure out the the total length in feet. Then match the measurements to our range of guard rail kits to find the right fit for your specific situation. Once you've selected the appropriate length and number of kits in our guard system, it can be quickly installed on-site with minimal disruption.
Calculate the area your Guard Rail system is needed for.
The most important step in your roof fall protection setup is to accurately measure the area that requires Guard Rails. This will ensure you're able to purchase the correct length and number of Guard Rail kits for your specific application. First, you will need to establish the exact layout of the Guard Rail system. For example, will it be a square, rectangle, maybe an odd shape, or even a straight-run? You will also need to know the exact length of each run of Guard Rail in the layout. We recommend that you use drawings, a measuring tape, or laser range finder to get an accurate measurement.  
Don't forget to take into account any obstacles such as walls, chimneys, vents and other structures that could interfere with rail placement. It is also important to keep in mind that the distance between each installed Guard Rail is 6 inches. This means, as an example, that five of the ten foot Guard Rail kits will actually span a distance of 52.5 feet. Note also that if the Guard Rail layout is a straight run, each end will require an extra kit (which we call a return) that connects perpendicular to the straight run. We usually recommend you use a kit of at least 5 feet for your returns.
Select the appropriate rail products and accessories.
After you have determined the layout and length of coverage, it's then simply a matter of matching the Guard Rail kit lengths to the requirements you have. Be aware that on straight-runs that require returns (as mentioned earlier), you will need to order one extra base by itself to terminate the run. You also might find it helpful to order the Safety Rail 2000 EZ mover to quickly and safely move the 100 pound bases into place. And depending on the roof, you may find it necessary to also purchase separate roof pads to put under the bases. They provide additional protection to roof membranes.
Install the guard rails securely onto your roof surface.
Installing the Guard Rail onto your roof surface is a pretty simple process. The Safety Rail 2000 system does not require any penetrations to be made into the roof. Installation is simply a matter of placing the bases, inserting the rails, and installing the locking pins. The system can be easily moved or adjusted at any time. And once installed, the system can be left in place.
Make sure you have all the necessary safety measures in place.
This is very important: workers need to always wear their personal fall protection gear like harnesses, lanyards, and anchorage connectors when working in dangerous areas at heights. Depending on the roof configuration, it might be critical to install a warning line system with flags about three feet inside the guardrail before beginning roofing work. Finally, make sure to double check and inspect the installation of the Guard Rail system against the factory installation requirements.
Major Safety Guard Rail Support
We are a valuable resource for you. Don't hesitate to let us help you choose the right kits for the job. If you can provide us with the layout and distances, we can provide you with the correct kit lengths you need. In fact, we can provide you with a quote that includes the right kits for the job and the shipping charges. Just reach out to us.