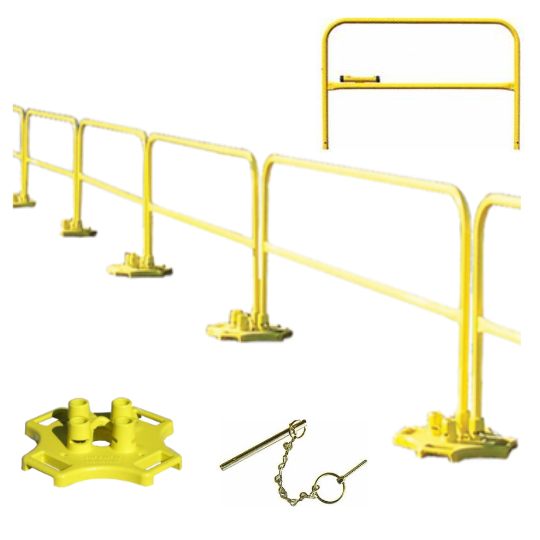 Bluewater Safety Rail 2000 Fall Protection Guard Rail Kit
Sale
Sale
Original price
$615.00
-
Original price
$648.00
The Bluewater Safety Rail 2000 guard rail fall protection kits are unbeatable in ease of configuration and setup. Each safety rail kit includes one rail, one base, and two securing pins. The kits do not penetrate the roof. They can be used as a portable or permanent solution. When installed properly with the 96 pound base and proper outriggers (if needed), they provide OSHA-compliant roof fall protection.
The safety rail kits are available in 7 lengths -  3', 3.5', 4', 5', 6', 7.5' or 10.
Please note that if the guard rail system does not terminate on itself - like a square, rectangle, etc. - then extra kits will need to be installed perpendicular on each end for support. In other words, you'll need extra kits to act as returns.
The kits are also available with a galvanized finish or can be custom colored to your specifications.
Installs in 3 easy steps: 1) Position bases into desired location, 2) Insert rails into base tubes, 3) Insert securing pins and lock into place. That's it! No drilling required.
Quantity Discounts Available!
Features:
42 Inches High
No drilling required
Portable or permanent guardrail
Install over 175 feet in an hour with two workers
Rails can be positioned in infinite directions
Each base can support up to 4 rails
Each base comes with an attached EPDM pad
Gate assemblies available
Optional toe board system
All rail sections are available in a powder-coated or galvanized finish
Special orders for non-standard colors also available
Custom engineering / manufacturing for special requirements
Meets and exceeds OSHA regulations 29 CFR 1910.29 and 1926.500 – 1926.503
For more info on how to configure your system, please read our article:
How Many Roof Safety Guard Rail Kits Do You Need?