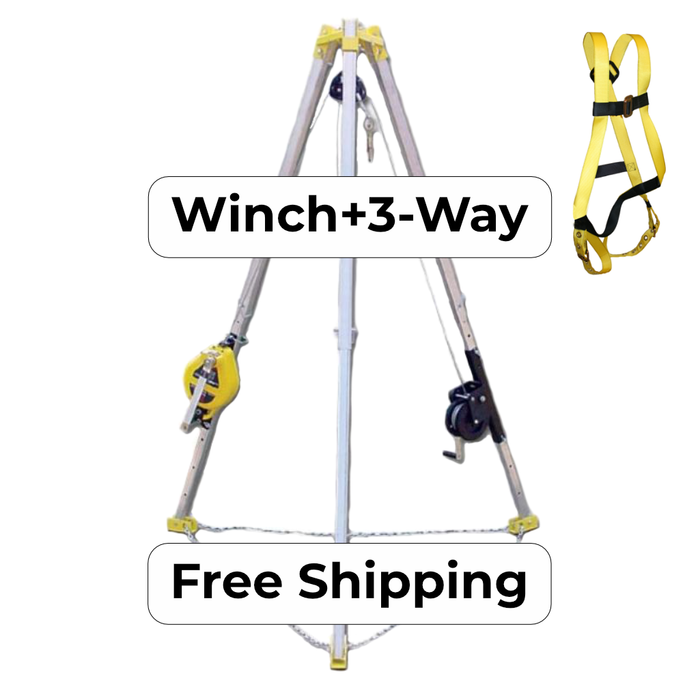 FrenchCreek S50G-M7 Combination Rescue Winch and 3-Way Winch Tripod Rescue System
Sale
Sale
Original price
$3,198.09
-
Original price
$3,198.09
The FrenchCreek S50G-M7 combination system is all about safety, redundancy, peace of mind, and convenience. Why is this you ask? Simple. With the MW50G rescue winch and the R50G 3-way winch/lifeline you get redundant rescue capability. If the MW50G winch (the black one) fails, simply engage the handle on the R50G (the yellow one) and the rescue can continue.
What about convenience? The R50G also serves as your fall protection when it's in self retracting lifeline (SRL) mode. This means its cable will extend and retract automatically when being lowered or raised via the MW50G.
What about safety? If the MW50G ever fails the R50G will engage and stop the fall. Even better, at this point the R50G's winch feature can be engaged and the rescue made.
All this means that this is the system to use when you can't use a ladder as a primary means of entry and exit into a confined space.
Now with FREE SHIPPING!
Features:
FREE - 651 FrenchCreek Harness
TP7 - 7 foot tripod
MW50G - 50' galvanized cable rescue and material winch
R50G - 50' galvanized cable 3-way rescue winch and SRL
All necessary carabiners and pulleys
Carry bags are sold separately
Footprint when fully extended (distance between each leg) - 50-51"
Shortest Tripod can be set and still use winch - 6'
Made in the USA!