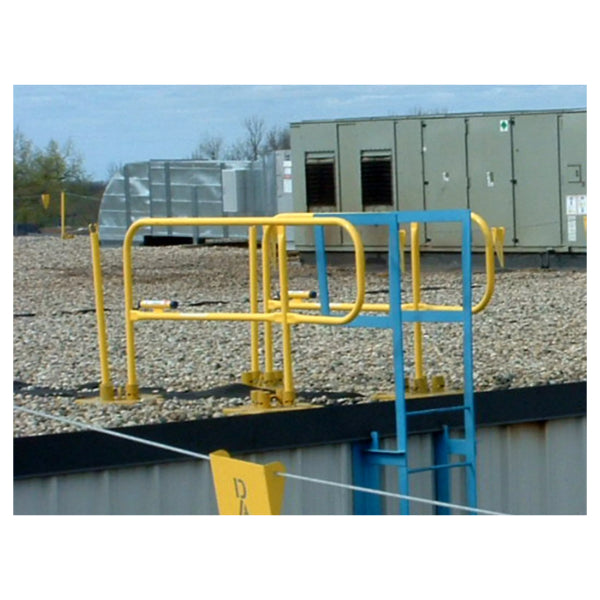 Bluewater Safety Rail 2000 Finish Rail Kit
Sale
Sale
Original price
$805.00
-
Original price
$842.00
The Bluewater Finish Rail Kit is designed to properly protect ladder entry ways on to roof tops. Two Finish Rail Kits combined with two Guard Rail kits plus two extra bases will put you in complete compliance.
For more information on the OSHA requirement for ladder entries on to roof tops and info on how to configure this solution, please read our article Fall Protection Rails for Roof Top Ladders or give us a call.
The Finish Rail kits are available in 4 lengths -  4', 5', 7.5' or 10. Each finish rail kit includes one rail, one base, and two securing pins. Each finish rail kit comes standard in powder coated yellow finish.
Features:
No drilling required
Portable or permanent guardrail
Install over 175 feet in an hour with two workers
Rails can be positioned in infinite directions
Each base can support up to 4 rails
Each base comes with an attached EPDM pad
Meets and exceeds OSHA regulations 29 CFR 1910.29 and 1926.500 – 1926.503

NOTE: Although the kits can be ordered online, due to the weight of these systems, we suggest that you order via phone. We can provide much better truck line shipping rates compared to our online UPS rates.
NOTE: The longest that can be used in CA and still meet the weight resistance standard is the 7.5'.
NOTE: Safety Rail kits and parts are non-returnable.
NOTE: The space between rails is 0.5". So this needs to factored in when configuring a layout. So, for example, a run of 240' divided by the longest rail kit, 10 feet, plus the .5" between each rail (so 10.5') equals 22.8. This means 22 x 10's and 1 x 7.5' rail kits are needed, plus the returns and extra base.