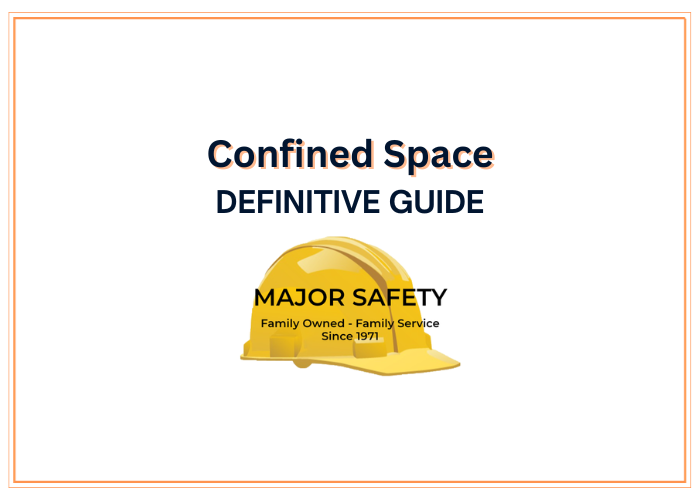 The Definitive Guide to Confined Space Entry
Is there a definitive guide to confined space entry and confined space equipment? This question is probably one of the most asked questions of those tasked with entering confined spaces.
Clearly, there is a lot of information out there. But it is not all helpful. It is also scattered all over the web. Don't worry, though. We are here to make your life much easier.
Let's begin with OSHA. They provide a great starting place for what content a definitive guide on confined space entry contains.
OSHA summarizes confined space entry into two general topics: (1) Standards and Enforcement and, (2) Hazards and Solutions.
These two seem simple enough. But we all know that underneath the surface it can get complicated.
So where does one even begin to start? It can be overwhelming. But we're going to make it simple.
If you're ready to understand OSHA's confined space entry requirements, read on. If you're ready to learn what confined space rescue equipment is needed, read on. We've got you covered.
OSHA Standards and Enforcement
The list of relevant standards for confined space entry is as follows:
1910.146

, Permit-required confined spaces.
That's it. 1910.146 is the General Industry standard for confined space entry. This is the standard most relevant to the reader.
Now, some industries do have different standards. Construction, Agriculture, and Shipyards all do. You can chalk that up to effective lobbying. But everybody else must abide by 1910.146.
What does 1910.146 teach? Surely one has to take a confined space training course to grasp it, right? Isn't it tedious and complex? The answer to these questions would be a no.
Let's start with an outline of 1910.146.
Scope and Application—1910.146(a)
Definitions—1910.146(b)
General Requirements—1910.146(c)
Permit-required confined space program—1910.146(d)
Permit system—1910.146(e)
Entry permit—1910.146(f)
Training—1910.146(g)
Duties of authorized entrants—1910.146(h)
Duties of attendants—1910.146(I)
Duties of entry supervisors—1910.146(j)
Rescue and emergency services—1910.146.(k)
Employee participation—1910.146(l)
Admittedly, the twelve subsections of 1910.146 contain a lot of information about confined space entry standards and enforcement. We are going to break it down for you into easy to understand summaries.
Scope and Application

This simply tells us what industry has to abide by the 1910.146 confined space entry requirements. If you aren't agriculture, construction, or a shipyard, it applies to you.
This means that you have to follow 1910.146 when doing any work that entails confined space entry.
Great, but what does this mean exactly? We are about to answer that question for you. Read on.
Definitions
The definitions given in 1910.146 are crucial to rightly understanding the standard itself. Fortunately, you can use OSHA's 1910.146 as a cheat sheet. Cut and paste them into a document and print them out. There is no need to remember all of them.
If you do confined space entry on a regular basis, it would make sense to remember at least the gist of the most critical terms.
For example, the standard tells us what a confined space is. It tells us what a hazardous atmosphere is. It tells us what a permit required confined space is. If you work in confined space entry, you need to be very familiar with such terms.
We have created a downloadable PDF with all of OSHA's 1910.146 definitions. You can download it here: OSHA 1910.146 Confined Space Entry Definitions.
General Requirements
In the general requirements section OSHA outlines the overall procedure for confined space entry. It starts with identifying and marking confined spaces. It specifies that a written confined space entry program is required before entry.
 Confined space entry requirements detailed in this section begin even before entry is made. For example, any conditions that might make it unsafe to remove a manhole cover must be eliminated.
An opening or entryway into a confined space, such as a manhole, must have a barrier of some sort around it to keep people from falling into the space.
Before a worker enters the space, the atmosphere must be properly tested with a calibrated confined space gas detector. We both sell confined space gas detectors and calibrate them, so we can help with this.
This section also addresses forced air ventilation of the confined space. Specifically, if a hazardous atmosphere is detected, forced air ventilation is required to make the confined space safe to enter. Thereafter, the confined space must be continually ventilated and the atmosphere regularly checked.
If at anytime during entry into the space, a hazard is detected, everyone is to evacuate immediately. The whole entry process must start again to ensure the space is safe to re-enter.
A written entry permit is also necessary to do confined space entry. OSHA provides an example of a confined space entry permit.
Non-permit and permit required confined spaces are addressed in this section. OSHA provides a helpful confined space flow chart to determine if the space is a permit-required confined space.
Employing outside contractors to work in your confined space is also dealt with in this section. You have certain responsibilities to them. This includes apprising them of dangers and hazards in the confined space.
Finally, the general requirements outlines the necessary steps to take if you think your confined space is exempt from the procedures outlined in 1910.146. Importantly, however, it does note that if you are entering the space to gather the evidence that the confined space is exempt from 1910.146, you have to abide 1910.146 during that confined space entry.
Permit-Required Confined Space Program
The permit-required confined space section lists out all the necessary components of a confined space program.
For example, it addresses unauthorized entry, identifying and evaluating hazards, eliminating hazards, confined space entry procedures, confined space detectors, confined space blowers, confined space rescue procedures and equipment, etc.
It also lays out what information is to be provided to all involved employees both in the program and on the job. It outlines the rights all employees have before and during a confined space entry. Any employee can abort a confined space entry if a hazard is present or has not been eliminated.
It introduces the need for authorized entrants, attendants, and entry supervisors. Each of which has it's own section.
It speaks to the importance of having recourse when hazards or deficiencies arise during any part of the confined space entry process.
Finally, it stipulates that confined space entry programs must be reviewed, and adjusted if necessary, on a yearly basis.
OSHA provides three examples of confined space entry programs.
Permit System
The permit system section expands on the need for a confined space entry permit. OSHA provides an example of a confined space entry permit.
Entry Permit
This section specifies exactly what information is to be provided on the confined space entry permit.
Training
Surprisingly, this section on confined space training is rather short. It states, "The employer shall provide training so that all employees whose work is regulated by this section acquire the understanding, knowledge, and skills necessary for the safe performance of the duties assigned under this section."
This question always comes up. Is paid, formal training required? No. Paying someone for confined space training is not required. It is certainly easier. But if you are capable, you can successfully implement 1910.146.
Sure, you can hire an outside company to provide confined space training. But you can also acquire the knowledge and expertise to do it yourself. Regardless of which route you take, your employees must be trained.
It is worth mentioning, that most confined space equipment manufacturers produce confined space training videos for their equipment.
You can make these videos part of your training class. Doing so would compliment teaching the instruction manual(s) and the hands on training of any confined space equipment you will be using.
You would also need to go over your written confined space plan and the OSHA standard that outlines all the assorted requirements and responsibilities of any confined space entry.
You can create the required training completion certificates using any common word processing software. They must include the "employee's name, the signatures or initials of the trainers, and the dates of training". If OSHA comes calling, they will want to see these and your confined space entry program.
Duties of Authorized Entrants
The authorized entrant is the person who enters the confined space. They must be made aware of any potential hazards that might exist in the space. They must also know how to identify hazards. This is done, in part, with a confined space entry gas detector and by reviewing the entry permit.
Among other things, the entrant is also responsible for communicating with the attendant. They, along with the attendant and entry supervisor, must have the authority to abort an entry or evacuate a confined space at any sign of a hazard.
The biggest mistake we see with entrants is a hesitation to leave the confined space when the gas detector goes into alarm. It must be made clear that if the instrument alarms the entrant is to leave the space immediately.
Duties of Attendants
The attendant shares many of the same responsibilities as the entrant. One big difference is they are never to enter the space. They are to continuously monitor the space from outside of it. Their primary duty is "to monitor and protect the authorized entrants."
Among other things, they are tasked with keeping a head count of who is in the space.
They must have the authority to remove anyone from a confined space that is found not to be fit (for whatever reason) to enter the confined space. This might be because the entrant has not been properly trained. It also might be that the attendant knows the entrant is impaired in some way.
They are also responsible for communicating with the entry supervisor.
Duties of Entry Supervisors
Like the entrant and the attendant, the entry supervisor must know the details of the entry and any potential hazards. The supervisor is to verify all appropriate tests have been performed.
It is their responsibility to cancel or abort any entry should any hazard come to light or should they suspect any as of yet detected hazards.
Among other things, they are also responsible for making sure an appropriate rescue procedure is in place. This includes a verifiable way to summon a rescue team. It might be to ensure the presence and proper setup of confined space rescue equipment, such as a tripod rescue system.
The entry supervisor is also responsible that entry always remains in accord with the confined space entry permit.
Rescue and Emergency Services
It is the employer's responsibility to make sure that any confined space entry has at the ready both confined space rescue equipment and proficient operators of that equipment.
Confined space rescues are to be performed by properly trained personnel, in a timely manner, and with adequate equipment. The employer must evaluate these things for every confined space entry. Rescue teams are to be made aware of any hazards they may face.
At least one member designated as part of the rescue team must have a current certification in both basic first aid and CPR.
The rescue team also is required to make a practice rescue at least once every 12 months.
Concerning the confined space rescue equipment, OSHA says this: "To facilitate non-entry rescue, retrieval systems or methods shall be used whenever an authorized entrant enters a permit space, unless the retrieval equipment would increase the overall risk of entry or would not contribute to the rescue of the entrant."
OSHA stipulates that an entrant must wear a full body harness when making entry. The harness is to be connected to a retrieval line which is itself attached to a winch outside the space.
This setup is always required if the confined space is deeper than 5 feet. Examples of this equipment are confined space tripod rescue systems or confined space davit systems.
Employee Participation
The final section of the OSHA 1910.146 states: "Employers shall consult with affected employees and their authorized representatives on the development and implementation of all aspects of the permit space program…"
It also requires that employees have access to all relevant information required to create the confined space program.
Now that we've covered OSHA's standards and enforcement. We can move on to OSHA's hazards and solutions for confined space entry.
OSHA Hazards and Solutions
OSHA provides a treasure trove of resources to aid the employer in abiding by 1910.146's confined space entry and confined space training requirements.
A huge help is the little known OSHA Confined Space Advisor. OSHA describes it this way: "The Advisor will help you determine if a space is covered by OSHA's Permit-Required Confined Spaces regulation. The system provides options to review the definitions of technical terms, to review answers to frequently asked questions, and to review the regulatory text."
There are also a number of OSHA endorsed PDFs available. They are linked to below:
Major Safety - The Ultimate Confined Space Solution
One of your most important resources for understanding hazards and finding solutions is us—Major Safety. We've been at this for over 50 years.
We have the experience and know-how to assist you in complying with OSHA 1910.146. We've made much of this available to you in resources like this article. Along with this article, we have numerous other confined space entry related articles.
But we have more than just the needed know-how and information!
We have the easiest way to outfit your crew with all the necessary confined space equipment. Major Safety pioneered the complete all-in-one confined space entry kit. These kits provide affordable all-in-one solutions that put you in compliance with the OSHA 1910.146 requirements.
These all-in-one confined space entry kits provide solutions for confined space rescue and retrieval with tripod rescue systems and davit rescue systems. They provide solutions for confined space ventilation with blowers. They provide solutions for atmospheric testing with confined space gas detectors.
Our most popular all-in-one confined space kit is the CSK-F-G4-A. It is the perfect system for most applications.
We also have an in-house confined space gas meter service center. You will find it an invaluable aid. Our service center is your partner. It will help you keep your confined space meter up to OSHA specifications. We calibrate, repair, and do warranty work, if eligible.
And if you've purchased your confined space meters from us, our tech is also available to you for assistance over the telephone. This means if you have a problem in the field, he might be able to give you some much needed guidance or a solution.
Conclusion
As you endeavor to comply with OSHA's 1910.146 confined space entry standard, we hope this article, the resources, and the products we offer can be helpful. If you still aren't sure if we should be your go-to confined space equipment partner, please check out what our customers are saying. They love us. We are sure you will too.