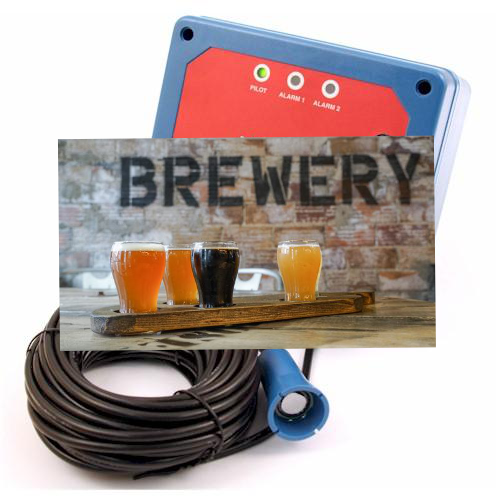 Ethanol Detection for Breweries
As small breweries and wineries open across the country, we have noticed a significant increase in the need for effective and economical ethanol fume detection to prevent explosions or fires. If you are opening a brewery or have put off installation of an ethanol detector in your current brewery, we have the perfect solution for your ethanol detection needs.
Is Ethanol Fume Detection Needed?
"Two major hazards in craft distilling or making flavoured alcoholic beverages are fire and explosion. Fire can occur when vapours from flammable organic compounds, such as ethanol (alcohol), are released. These vapours can come from leaks in tanks, casks, and equipment, such as transfer pumps, pipes, and flexible hoses. A vapour explosion can occur if enough vapours are released in an enclosed space with ignition sources, such as gas boilers or sparks from electrical equipment." (WorkSafeBC)
For these reasons, OSHA requires that combustible fumes in the work place be monitored. The relevant code is found in OSHA CFR 1910.1000 Air Contaminants. OSHA requires that detection equipment be specific for the hazard in order to avoid false alarms. Off-the-shelf detection solutions for breweries simply aren't sophisticated enough to comply with this requirement. The PS2 will only detect combustible gases. There will be no false alarms for CO or CO2.
The PS2 plug-in ethanol detector is as simple as it gets. It's made by the world leader in fixed system gas detection--RKI Instruments. It is really easy to install--just plug it in. And it comes calibrated for Ethanol with the low and high alarms pre-set to the 10% and 20%. By the way, these alarm levels can be set differently. 
The sensor is conveniently located at the end of a 30 foot cable. This allows you to mount the controller remotely from the sensor if needed. It also contains relays that can turn on ventilation fans when either the low or high alarms are triggered.
The PS2 uses a super reliable MOS LEL sensor. It is long lasting and low maintenance. It comes standard with both audible and visual alarms.
The PS2 is only $435.00. To learn more or to purchase: CLICK HERE.
If you have questions or need help, please give us a call--800.446.8274.