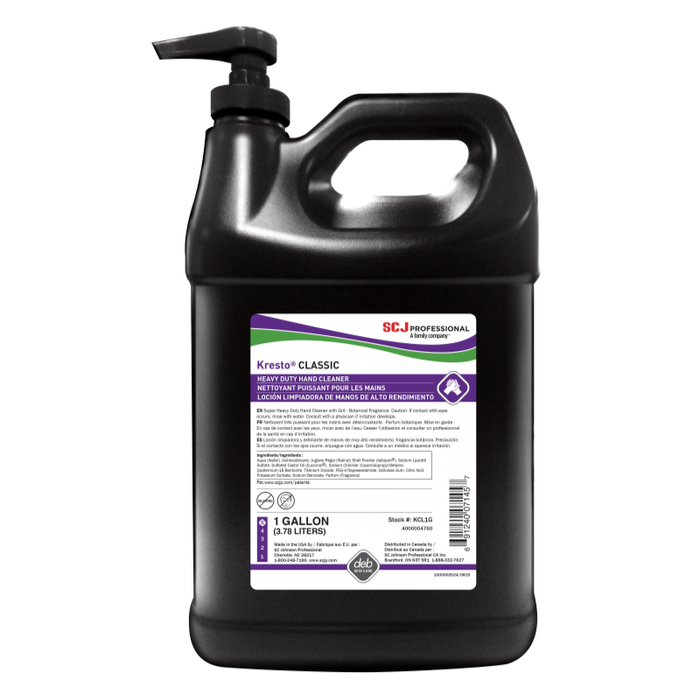 Kresto Classic KCL1G Extra Heavy Duty Hand Soap
Sale
Sale
Original price
$47.37
-
Original price
$47.37
Kresto is an extra-heavy duty hand cleaner, ideal for the toughest industrial dirt. It is alkali-free and contains a biodegradable walnut shell scrubber and a safe solvent. It cleans extremely well in cases of intensely stubborn industrial dirt (e.g. grease, oil, soot, metal dust, lacquers, adhesives, etc.) that cannot be removed at all by products that are free of scrubbers and solvents. We've been selling this for over 30 years, there is nothing better.
This is new packaging. It is now sold in a one gallon pump top container. This replaces the 30362 1/2 galling pump top container. It is the same soap. You get more for your money in the new packaging.
Features and Benefits:
Contains all natural, biodegradable walnut shell scrubbers.
Contains the skin strengthening agent EUCORNOL.
Easily rinsed away and is not prone to swelling, has been tested and proven not to clog drains or pipes.
Low solvent content, good skin compatibility
For extra heavy-duty cleaning of grease, oil, ink and carbon black.
Does not strain the environment by depleting timber supplies.
Helps to prevent skin irritation according to the results of dermatological tests.
No costly plumbing repairs due to scrubber in product.
Much more gentle to the skin, even with everyday use, than products with high solvent content.