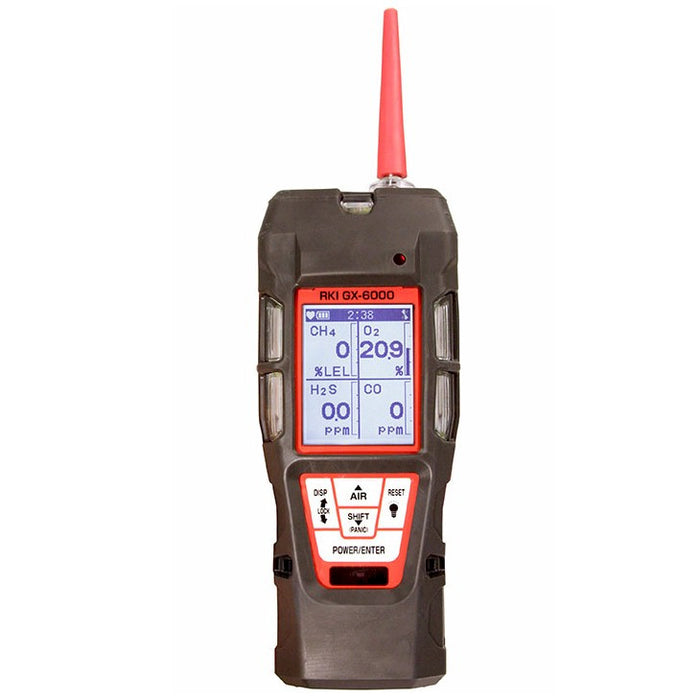 RKI GX-6000 Portable and Confined Space Gas Detector
Sale
Sale
Original price
$2,095.00
-
Original price
$3,325.00
Simply put, the GX-6000 is a game changer. This powerful hand-held instrument is capable of simultaneously monitoring up to 6 gases. In addition to the standard 4 confined space gases which include combustibles, O2, CO, & H2S, the GX-6000 has 2 additional smart channels that accept PID for VOC's (volatile organic compounds), IR or super toxic sensors.
Equipped with a strong internal sample pump, a man-down alarm, a panic alarm, an LED flashlight, and large auto rotating LCD display, the GX-6000 can operate as a single gas PID unit or a multifunctional tool utilizing all 6 channels. The GX-6000 with a PID sensor will come equipped with a library of over 600 VOC gases to choose from as standard. Choosing from the library is easy with a personalized favorites list of 30 commonly used VOC's as well as a list of 8 of the most recently used VOC's.
The GX-6000 has a rugged design built for the nastiest environments. It is equipped with a removable impact-resistant rubber boot and a dust and water resistant enclosure with an IP-67 rating. With 5 bright LED lights on 3 sides of the instrument, alarms are easily seen from a variety of perspectives. With vibration and loud audible alarm, GX-6000 will easily alert users when needed.
We have listed the most common configurations. Please call if you require something different.
All options we list here include lithium-ion battery pack and charger and the high range PID lamp (6,000 ppm).
Features:
Monitor up to 6 gases
2 smart slots that auto recognize PID, IR, and super toxic sensors
Library of over 600 VOCs
PPM Leak Check mode
Man-down alarm
Panic alarm
Auto display rotation
LED Light source
Internal sample pump
Glove friendly buttons
Light weight, small, rugged IP-67 design
Interchangeable battery packs Li-ion / alkaline
Operates up to 14 hours on Li-ion battery pack, fully recharges in 3 hours
Field replaceable sensors, batteries, filters & pump
Current time display