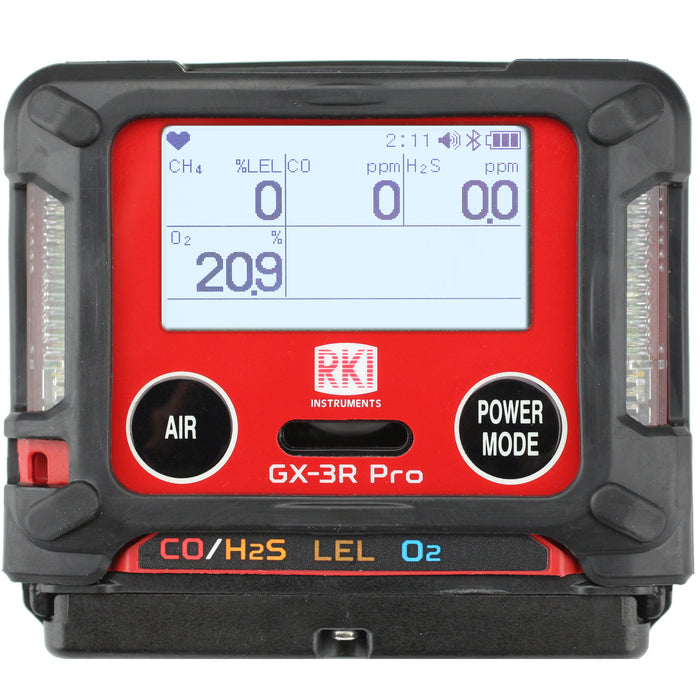 RKI GX-3R Pro Portable Gas Monitor with Bluetooth
Sold out
Original price
$825.00
-
Original price
$1,060.00
The RKI GX-3R Pro is the lightest and smallest Bluetooth capable gas detector on the planet. It comes standard with a 4-gas option - Oxygen, Hydrogen Sulfide, Carbon Dioxide, and Combustibles - but can also be easily upgraded or purchased in a 5-gas option. Some common fifth gases would be CO2 or SO2.
The monitor comes with alkaline batteries that can easily be changed out. They last up to 25 hours. Given the size and the flexibility, this will quickly become the go to confined space gas detector for many applications. It also easily attaches to a confined space entrants belt with the included belt clip. Given its small size, it doesn't get in the way.
This little meter is packed with features: Bluetooth (both an iOS and Android app are available), Man Down Alarm, and has a 3 Year Warranty. It even measures H2S in 0.1 increments.
It's a diffusion meter, so like the Quattro and the Microclip XL, remote sampling would be done by lowering the GX-3R Pro down via a rope - not at all unusual. 
Links to the App: iOS Click Here - Android Click Here
Features:
Smallest & lightest multi gas monitor

2.9" W x 2.6" H x 1.06" D , 4.58 ounces

Detects LEL, O2, H2S, and CO (the 4 confined space gases)
Simple 2-button operation
Bluetooth communication with iOS & Android App
Panic Alarm — Tap instrument twice
Man Down Alarm
Impact resistant body with removable rubber boot
Large full dot, auto-backlit display with auto-rotation
Field replaceable sensors & filters
Water and dust resistant design, IP66/68
3 Year Warranty