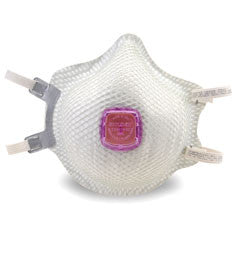 Moldex 2360P100 Particulate Respirator with Ventex Valve
Sold out
Original price
$58.75
-
Original price
$58.75
The Moldex 2360P100 disposable respirator features the highest protection and longest service life you can get in a disposable particulate respirator. It filters fine particulates with a 99.97% efficiency rating. It also protects against oil and non-oil based particulates.
The exhalation valve makes for a more comfortable experience. It vents out hot air making a cooler experience. It's molded nose bridge and foam face cushion provide an easy and comfortable fit.
The Dura-Mesh shell resists collapsing and provides for a longer life--especially in hot and humid environments.
Typical uses: environments where an OSHA substance specific standard applies (lead, cadmium, arsenic, MDA) as well as pharmaceutical manufacturing, conventional and nuclear power generation, welding, cutting and metal pouring.
** Discontinued by manufacturer **
NOTE: This would be the respirator of choice for residents experiencing forest fire smoke.
Features:
Sold by Bag of 5 Each
100% PVC-Free.
Adjustable cloth straps assure a snug, cool and comfortable fit.
Ventex valve lets the hot air out faster so workers breathe easier and stay cooler.
Soft foam face cushion for added comfort and no pressure points.
Dura-Mesh shell resists collapsing in heat and humidity.
Contour molded nose bridge seals without a metal noseband.
99.97% efficient against oil and non-oil based particulates.
Meets heat and flame resistance in accordance with ANSI/ISEA 110.2003 Section 7.11.1.