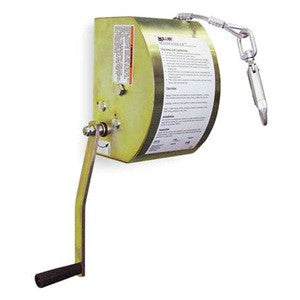 Miller 8442-Z7/65FT ManHandler Tripod Rescue Winch
Original price
$2,804.87
-
Original price
$2,804.87
The Miller ManHandler 8442-Z7/65FT confined space rescue is ingeniously designed. It is protected inside a metal housing which provides excellent durability. This feature enables it to take a beating in the back of any pickup truck.
Features:
The 8442 winch weighs 37 lbs.
Galvanized cable - 65' long.
350 pound working capacity.
5:1 effortless gear reation.
Anti-backlash crank handle breaking system.
Integral load indicator.
Comes with everything you need to mount on a model 51 Miller tripod - carabiner, mounting bracket, and pulley.
Note: If a ladder is not available to use for entry into a confined space then a self retracting lifeline is required to be used in tandem with the 8442 winch.
Downloads:
If you have questions about winch and lifeline inspection read Self Retracting Lifeline and Winch Inspection.