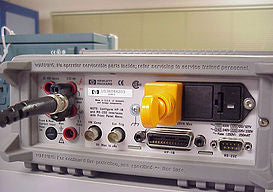 Lockout 320 Power Supply Lockout
Sale
Sale
Original price
$22.00
-
Original price
$22.00
The Lockout 320 is a revolutionary lockout system for securing computers and other systems by simply locking them out at the power supply. This ingenioius lockout was invented by our a customer and friend - Rick Gonzales from Jefferson Labs.
The Lockout 320 is incredibly popular at with our federal government customers like the Department of Defense and NASA. They have found it to be the simplest way to secure computer systems from theft or security.
All you do is insert the lockout in the power supply, turn it until it secures itself by expanding, and then insert a padlock to complete the lockout process. It's that easy.
Features:
Bright Molded-In Color
Lightweight
Palm-Sized
Durable Solid Nylon Body
Simple To Use
No Equipment Modifications
No Tools Required
Accepts Common Padlocks or Security Cable