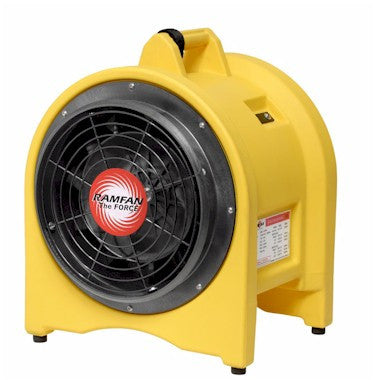 Euramco RamFan UB30 Confined Space High Powered Blower
Sale
Sale
Original price
$695.10
-
Original price
$695.10
If you want power, we the 12 inch RAMFAN UB30 blower has power a plenty. This thing is a beast of air power. It produces up to 2800 cfm. And as far as confined space ventilation blowers are concerned, it really is unmatched in performance and reliability. It also has RamFan's acclaimed durability.
Why is power so important? One word - time. This blower can vent a space almost 3 times faster than a normal blower. This means less down time and more work.
The duct is sold separately - Click Here.
UB30 Features:
Dual Voltage/Dual Frequency/One Unit
High Impact Polyethylene Shell
Polypropylene Turbo Fan Blade
Low Starting Amps
Stackable Design Feature
UB30 Specifications:
Motor: 50Hz-0.8kW 60Hz-0.62Hp
Fan: 12" x 11 blade
Weight: 37lbs/ 17kg
Amps: 115V-8A 230V-5A
Size: 20H x 15.5W x 12D in
Airflow No Turns: 50Hz-2873cfm & 60Hz-2420cfm