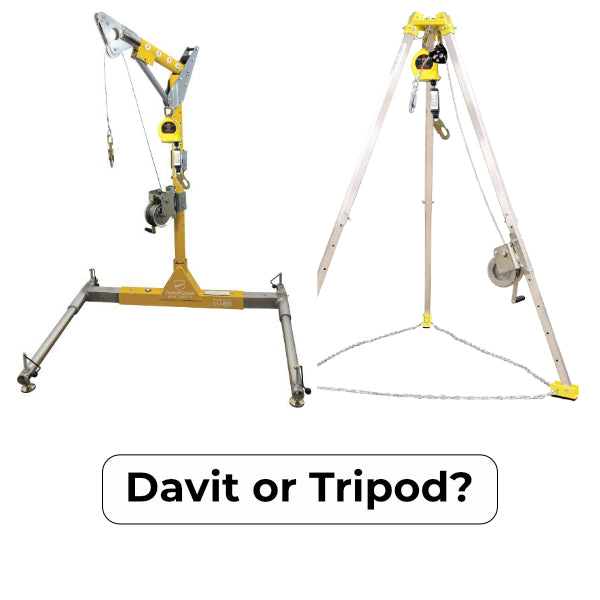 Tips on Choosing a Davit System or a Rescue Tripod
Is a davit system for confined space entry and rescue worth the extra money? What are the benefits and what are the negatives when compared to a tripod rescue system? In this article we will help you navigate these questions. Our aim is help you choose the system that best suits your application.
Benefits of Davit System
Without a doubt, a davit system is more flexible. It can accommodate more scenarios. For example, it can easily work over a standard sized manhole. But it can also handle much large diameter manholes. Our Frenchcreek davit system base has an adjustable clearance range of 36 to 60 inches.
Also, compared to a tripod, a davit system actually provides more space or clearance to work in and around the space. This is because it doesn't have a bunch of legs in the way.
Even better, it also can work with much larger confined spaces. For example, it can easily accommodate vaults--either square or rectangle. The mast offset allows davit systems to be set up on the edge or corner and then extend the davit arm over the vault. Tripods simply cannot do this effectively.
Davit systems also provide for a safer exit from the space. How so? Once the entrant is sufficiently clear of the space, the davit arm can be swiveled away from the space so that the entrant can disembark from the system safely away from the entry point. The same goes for entry into the space, for that matter.
This feature also gives an entrant and other workers much more head room above the manhole than a tripod does.
A davit system also provides more of a barrier between the attendant and the confined space opening. This is because to properly operate the system, the attendant will be standing behind the davit arm and base of the davit system.
Negatives of Davit System
The downsides of a davit system are, of course, the upsides of a tripod system.
The first downside is cost. Take, for example, our best-selling tripod rescue system. It costs $1,730.00. The comparable davit system costs $4,595.00. As we just saw, however, you do get more flexibility for your money, to be sure.
A second downside is portability. Our best-selling tripod system can essentially be transported in 2 convenient carry bags. A davit system requires a little more effort. Granted, we've seen some pretty ingenious ways to move them around strapped to a dedicated dolly or hand truck.
A third, but easily dispelled, negative is that a davit system is harder to set up. While it is true that a tripod is simple to set up. They have no parts to assemble in the field. One simply sets up the tripod and then mounts the winch and/or SRLs.
The setup of a davit system is very intuitive. It's not as if you can put it together backwards or upside down. You have a base and the davit arm...that simple.
Davit Rescue System or Tripod Rescue System?
There's no good answer to this question. The location of a confined space, say a hike from the nearest access road, might seem to lean towards a tripod system. However, if the entry point to the space is a 8' x 8' vault, then a tripod will be problematic.
The size and shape of the confined space entry point will always dictate your options. If it allows for both, then consider location. If the space requires a bit of effort to get to, a tripod system is probably the best option. And remember this, a davit system can be used just about everywhere a tripod system can be use. The same can't be said for a tripod system.
As usual, we are ready and willing to help. Don't hesitate to contact us.