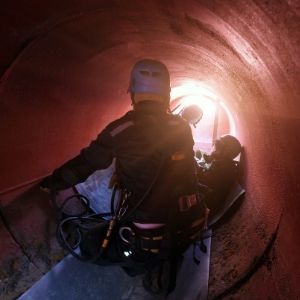 OSHA Rescue Requirements for Confined Space Retrieval
The Occupational Safety and Health Administration (OSHA) is in charge of making sure that you are safe from any dangers that may be present in your profession. For those who work in construction or other types of industrialized jobs, tragedy can strike due to the environment that workers must endure while on a project.
One type of environment that presents plenty of danger is confined spaces, which is why OSHA has plenty of standards in place to ensures such tragedies don't happen. However, when accidents do happen, it's also important to know how to go about the rescue process. Continue reading for a deep dive into the OSHA rescue requirements for confined space retrieval and learn how Major Safety Service can play an important role in the process.
The Dangers of Confined Space
When working in construction, water treatment, and other industries that require you to enter a manhole, you put yourself at great risk when you enter a confined space. Some of the most common hazards associated with confined space include:
Extreme heat
Flowing liquids
Free-flowing solids
Toxic atmosphere
Oxygen deficiency
Oxygen enrichment
Flammable or explosive atmosphere
The dangers associated with confined spaces make developing a quick response to save whoever might be stuck in this situation a top priority.
Different Rescue Techniques
Because of the different dangers associated with a confined space, OSHA enacted several rescue techniques to retrieve someone from these incidents. In the event that you or someone else becomes trapped in a confined space, make sure you're well-versed in the following rescue methods:
Non-entry: A rescue technique that doesn't require an individual to enter the confined space. Instead, the rescue attempt can be done with a tool such as a rope or a winch.
Enter by trained employees: A company uses employees who are trained in handling confined space rescue. This means the employees are CPR and first aid certified and possess the ability to operate various equipment and methods specific to confined space rescue.
Entry by others: Not every company has personnel who are trained for emergency situations. When this is the case, the rescue will be conducted by public safety officials, such as the Fire Department or some other third party.
Having some type of strategy in place is the key to being prepared for situations where you need to rescue workers from a confined space. If a rescue is needed, make sure to close off the area and use one of these retrieval systems.
Use the Right Rescue Equipment
In order to conduct an effective form of recovery, you need to have all the right equipment. The first piece of equipment that you should use is a rope, which is valuable for a technical rescue. You should also utilize a harness to protect yourself against a fall, tripods for vertical entry, and winches for the tripod that can lower and retract someone from a confined space. Ventilation systems, lockout tag outs, stokes baskets, and self-contained breathing apparatus (SCBA) units will also be instrumental during the rescue. At Major Safety Service, you can find all the effective confined space rescue gear you need for a safe retrieval.
Wear Personal Protective Equipment
Another major step toward following the OSHA rescue requirements for confined space retrieval is to use the necessary personal protective equipment throughout the process. Wear respirators to ensure you aren't breathing in harmful toxins as you mount a rescue, and be sure to inspect the respirator's condition before and after use. Some other forms of PPE that you should put into use during the retrieval process include:
Headwear
Gloves
Protective clothing
Watch the Entrance
Falls are a major consequence of confined space rescue, and many precautions revolve around this hazard. Whenever you remove the hatch or cover of a confined space, make sure to watch over the entrance and guard it with a rail, use a temporary cover, or create a barrier that prevents someone from accidentally falling during a rescue.
Check for Safe Access
Next, you will want to ensure that the confined space is safe enough to enter in the first place. This is where a tripod and winch will come in handy, as they will allow you to inspect the environment and keep yourself from falling. Fall protection is a vital part of OSHA's rescue guidelines, so having it all squared away before you begin the rescue is very important.
Have Backup Protection
With any solid plan, you also need to have a backup plan in case something goes terribly wrong. In regard to OSHA rescue requirements, this means having multiple ways to protect yourself. For instance, you might use a ladder as your primary method for fall protection, but that doesn't mean you are completely safe. This is where having a harness as a backup also comes in handy as it can protect you from falling into a confined space. An extra level of protection never hurts and can ensure that you have an outlet to fall back on during a rescue.
Response Times
Another aspect of confined space retrieval is the response time, which encompasses a few different elements. Confined space retrieval is very time-sensitive, and keeping track of all the different aspects of the rescue is a must. If you are trying to follow OSHA rescue requirements, here are some common time factors to keep in mind:
Reaction time: When the issue was detected and when it was solved.
Contact time: How long it took until there was contact with the rescue team.
Response time: When rescuers arrived at the scene.
Assessment time: How long it took for the team to conjure up a plan for rescue.
Rescue time: How long it took to save the victim and evacuate them from the confined space.
Get Plenty of Training
Lastly, if you intend to follow all the requirements from OSHA regarding confined space retrieval, your workers will need to undergo some type of training to completely understand the process. This blog only brushes the surface of confined space retrieval, but there is a lot more that you must understand before entering this type of situation. There is also a practical side to knowing how to use the various pieces of equipment that can help along the way. OSHA requires that employees take the proper training every year, so they are always prepared and up to date with how to handle an emergency such as a confined space retrieval.