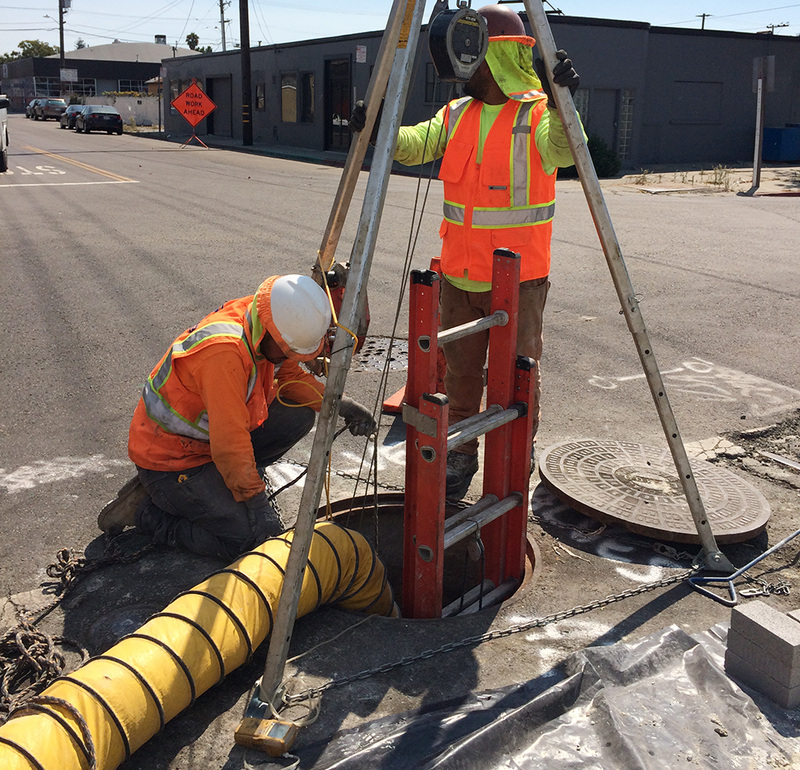 All-In-One Confined Space Entry Kit - The Basics
Many of our customers are just getting started in confined space entry. This can be due to any number of reasons. Some are expanding and pursuing additional job opportunities. Some may have come back to confined space entry jobs after a long hiatus. Whatever the reason, the time has come to make a purchase. What is needed, of course, is high quality and affordable confined space equipment that meets the applicable OSHA and ANSI standards. This is where we come in. 
But more than that, knowledgeable help is needed. For over 50 years, we've been helping companies enter confined spaces safely and affordably. Not only do we know what we are doing, but we even answer the phone...in person.
All-In-One Confined Space Kit - The Equipment
For the majority of confined space entries, you will need at least three pieces of equipment. You will need a means of entry that provides both fall protection and rescue capabilities. This is usually a tripod rescue system. You will need a gas monitor that detects four gases: oxygen, methane/combustibles, hydrogen sulfide, and carbon monoxide. You will need a ventilation blower.
Tripod Rescue System
In order to safely lower, raise, and rescue a worker from a typical confined space, a rescue tripod is required. The tripod itself serves as the approved anchor point. Typically, the rescue tripod has two pieces of equipment attached to it. There is a self retracting lifeline that serves as fall protection. This hangs from the top of the tripod attached to an eyebolt. There is also a hand crank rescue winch that is attached to a leg of the tripod. Our most popular Tripod Rescue System is the M-CSKit-25. In some cases, the SRL hanging from the top is replaced with a 3-way winch that also attaches to a tripod leg. This is usually an add-on purchase. The 3-way winch serves as fall protection (replacing the SRL) and as a backup rescue device should the main winch fail. An example of the rescue system with a 3-way backup winch is our FrenchCreek Tripod System with a 3-Way Winch.
Gas Detector
Before a confined space can be safely entered, its atmosphere has to be checked with a 4-gas confined space monitor. This can be done using a monitor that has a pump or can be done by slowly lowering a monitor into and then out of the space with a rope. Whatever method you prefer, the monitor has to check for oxygen (both too much and too little), methane (combustible gases), hydrogen sulfide (the rotten egg odor), and carbon monoxide (the odorless killer). The measurements obtained must be noted on your entry permit. It is also required to then continuously monitor the atmosphere while in the space. Our most popular confined space gas monitor is the GFG G450.
Ventilation Blower
The third basic piece of an All-In-One confined space system is the ventilation blower. This is used for two reasons. The first is to provide fresh air for the workers in the space. It makes for a more comfortable work environment. The second reason is to displace any hazards found with the gas monitor. If at any point before or during entry the gas monitor detects a hazard, the space cannot be entered (or re-entered) until the atmosphere is normalized. This is usually done with a ventilation blower. Our most popular blower is the 9533-15.
Our Recommendation
The simplest and most cost effective way to go is to purchase one of our all-in-one confined space kits. Our go to recommendation is always our our best-selling CSK-F-G4-A All-In-One Confined Space Kit. This kit consists of the made in the USA FrenchCreek tripod system. It comes with what we think is one of the most durable and reliable gas monitors around, the G450. And it also includes the Allegro 9533-15 ventilation blower. Ideally, we'd recommend that you purchase an add-on to this system: the R50G 3-way backup winch.
Don't Forget Training
The proper equipment is only as good as the training. It is crucial to properly train your workforce on the use and operation of any piece of confined space safety equipment. Even equipment failures should be trained for; including winch or instrument failures. There always has to be a Plan B when a life is at stake.
Confined Space Kit - The Service
What about after the products are purchased? This is, for us, one of the most important questions you can ask. This is where we shine. We have an in-house service center that services and repairs the gas monitors we sell. We even do warranty work on the gas monitors we sell. This avoids long factory wait times and provides you access to timely tech support. And although we don't service blowers or tripod systems in house (they have to be serviced at the factory), we can put their tech departments in touch with you, if needed. We also will assist you in the return of those items to the factory for repair or warranty evaluation by securing the needed return authorization info on your behalf.